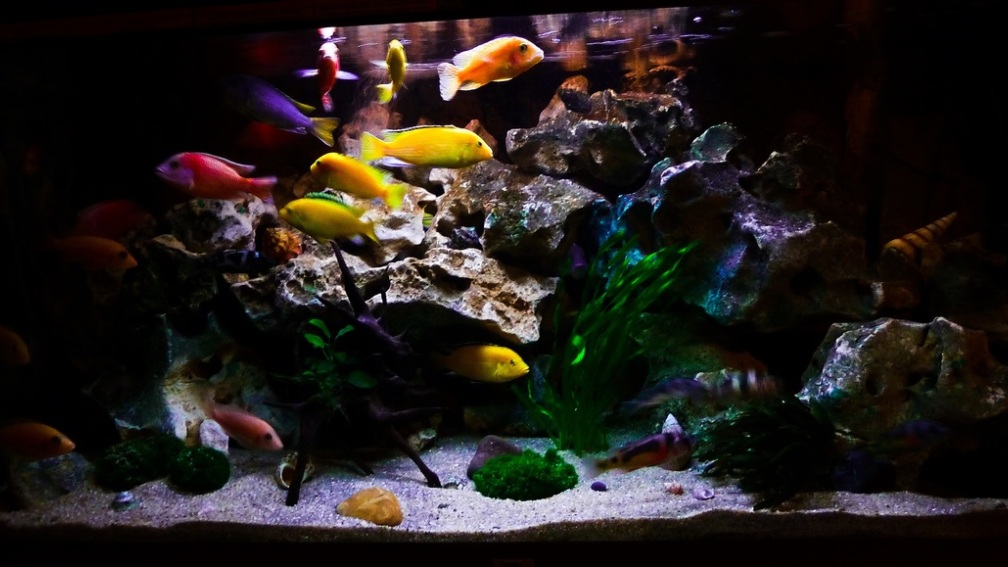 Category:
Tank size:
1,20m x 0,50m x 0,60m = 340 liters ~ 89 gallons (us)
Specific features:
Juwel Rio 300 tank with internal filter
Rear wall and internal filter dressed with Back to Nature:
Slim Line backplane module A, B and C
Colour: Basalt / gneiss
Side windows with posters plastered rock
Gravel:
about 35 kg of sand beige 0,2-0,8mm, about 8 cm high
Plants:
Vallisneria tortifolia V40
Anubias barteri var. Nana
Anubias congensis
Special features of the facility:
about 100 kg Perforated rock up to the water surface,
is 2.5mm to 1cm Styrofoam + Plexiglas,
Shellfish
Lighting:
GHL Alu-Light bar with separately dimmable tubes

Rear:
JBL Solar Marin Blue T5 39Watt
09:30 60 min. at 80%
20:30 60 min. at 10%
from 22:30 30 min. at 0%

Front:
JBL Solar nature 9000K T5 39Watt
10:00 60 min. at 40%
from 20:00 60 min. at 0%

ProfiLux Simu-L Separately dimmable LED lamp, rod,
blue / white and orange / red, in addition to lightning storm simulation.
Attached with Reflectorclips under front flap.

Dawn:
from 09:55 15 min. at 80%
from 10:15 15 min. at 0%

Afterglow:
20:30 15 min. at 80%
from 20:50 15 min. at 0%

Moonlight:
from 22:00 60 min. at 50%
from 01:00 60 min. at 0%
Brightness depending on the current moon phase.
Filtration:
1 EHEIM professionel 3-600 Type 2075
Pump capacity: 1250 ltr / h..
Filter volume:. 6 ltr (+ 0.5 ltr.Vorfilter)
Filled with: 1.Korb: EHEIM MECH pro
2.Korb: EHEIM MECH pro
3.Korb: EHEIM bioMECH
4.Korb: EHEIM substrat pro, white fleece and grilles
Prefilter: Blue filter mat

1 Juwel internal filter Jumbo
Pump capacity: 1000 l / h..
Filled with fine 2x and 2x rough sponges, 1x Cirax and Filter Floss
Other equipment:
1x Jewel heating rod 300 Watt in the internal filter

1x Thermo-sensor behind the rear wall

1xJuwel Futterautomat: 1.Fütterung 12:00, 18:00 2.Fütterung, filter and pump flow switch on automatically in the time 5 min.ab.Außerdem the device can be operated manually.

1x 6-way power strip Aqua pilot of Brennenstuhl dual timer

ProfiLux II aquarium computer for light and flow control, cloud and storm simulation

Flow pump Tunze Turbelle Nano Stream 6055
Flow Rate 1500-5500 ltr. / Hr.
Posted on: sine wave duration 10s
Minimum 30%
Maximum 90%
Night 30%
during thunderstorms Simulation 100%

Software Aquarix 4:16 (TOP software)
4 pindani 1/3
8 Pseudotropheus spec. elongatus Mpanga 2/6 + plenty of boy
4 Labidochromis caeruleus 1/3
8 Melanochromis johannii 3/5

0 Potamonautus orbitospinus (Blue Malawi crab)
PH: 7.8 to 8.3
GH: 17-19
KH: 10-12
No2: 0.0 mg
No3: 5mg
NH4: 0.0 mg
CU: 0.0 mg
Po4: 0.5mg
Fe: 0,05-0,25mg
Co2: 4-8mg
Temp.: 24-26

measured with sera aqua test box and Dennerle Profi-Tester pH

Water change: weekly ca.50% = 140ltr.
Treatment means: 250gr.Micro zeolite powder dissolved in 5ltr. dest.Wasser.Reicht for ca.15.000ltr. Pro water change ca. 50-100ml
JBL Denitrol (cleansing bacteria) 10ml after each change
Sera granugreen
Sera Spirulina Tabs
Tropical Malawi / basic flake food
Tropical Spirulina Super Forte 36% / Mini Sticks
Tropical Cichlid Color
Tropical Cichlid Spirulina Medium Sticks
Nature Food Premium Cichlid Plant M
JBL Novo Malawi 38% Spirulina
JBL Novo Rift
Tetra Phyll granulate

Frozen food: Mix vegetable Malawi, some white and black mosquito larvae

Seaweed lining sheets
Cucumber

Lining stone with entkapselter Artemia or a mix of all types of feed
(Feed pureed with a little water, painted on stone and let it dry for a few days.

JBL Atvitol (multivitamins) on food or directly into the water

Once a week is fasting.