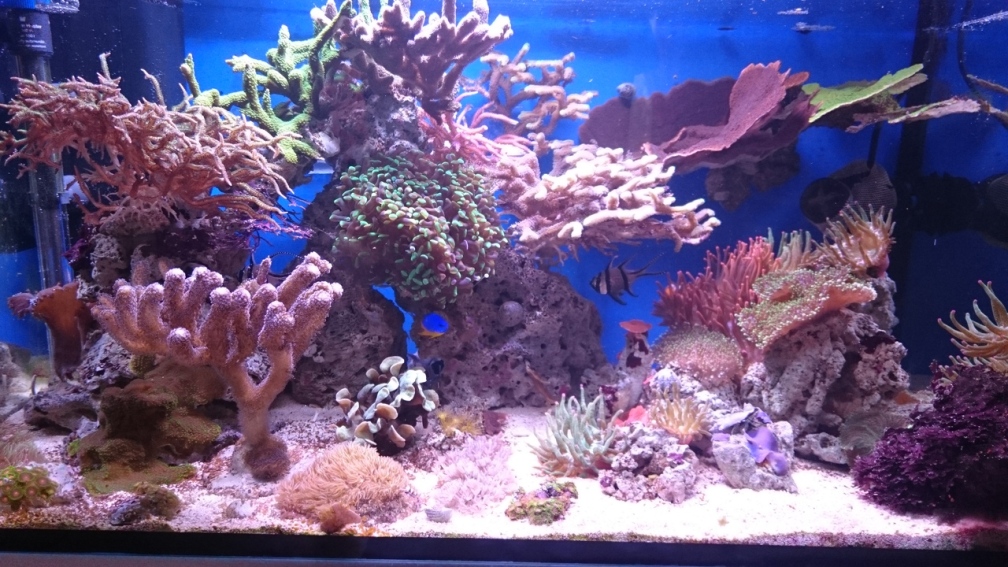 Category:
Tank size:
80x40x44 = 140 liters ~ 36 gallons (us)
Specific features:
Gravel:
Special features of the facility:
Lighting:
Hypernova Led High Premium with 70 Watt
Filtration:
Other equipment:
Tunze-flow pump
Heater
Refill
fish
2 Amphiprion ocellaris
2 Pterapogon kauderni
1 Chrysiptera hemicyanea
1 Synchiropus splendidus

Invertebrates
Calcinus laevimanus
Pilodius scabriculus
Nerita Polita
Turbo tuberculosus

Coral / anemone
Briareum Hamrum
Caryophyllia smithii
Cribrinopsis crassa
Discosoma sp. 12
Discosoma sp. 33
Entacmaea quadricolor
Euphyllia paraglabrescens
Merulina ampliata
Montipora digitata 01
Montipora hodgsoni
Pavona cactus
Rhodactis sp. 04
Rhodactis sp. 07
Seriatopora caliendrum
Seriatopora hystrix
Sinularia brassica
Terrazoanthus sp.
Xenia umbellata
Zoanthus "Moonlight
Zoanthus "Radioactive"
Zoanthus "Watermelon"
Frozen food -> Artemia etc
Survivors Artemianauplin
Flockenfuter, granules