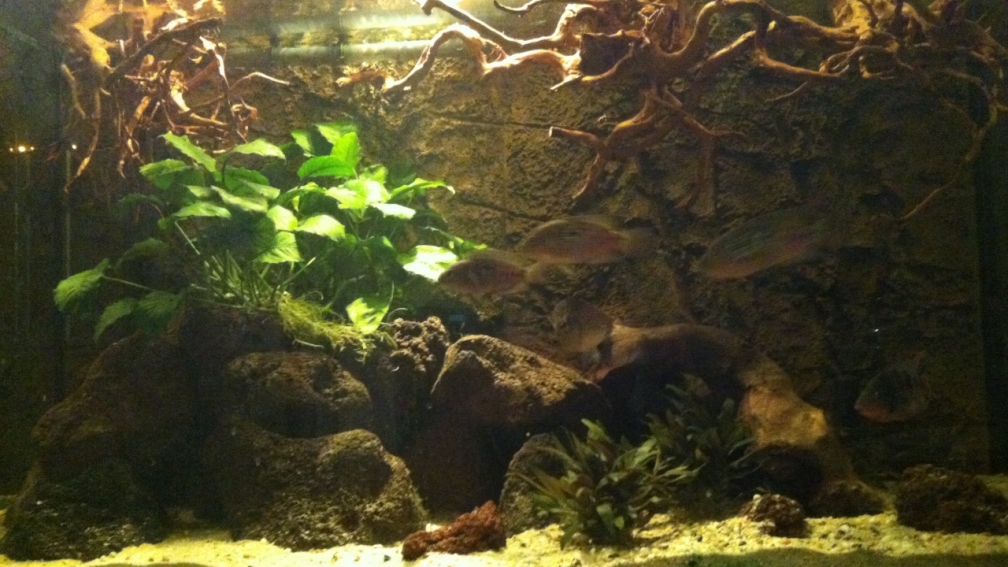 Category:
Tank size:
120x60x70 = 500 liters ~ 132 gallons (us)
Specific features:
- Backplane modules of Back to Nature Slim skirt.
- Bowl and lid made of diamond Aquarium 12 mm glass

If an interest in exchange for a corresponding amount of roots announces you please've been here for a few weeks in search of suitable roots for my new pool! (Aniom@web.de)

Best regards
January
Gravel:
- Nearly 50 kg of mixed (light / dark) gravel 0,5-6mm
Lighting:
2x 39W T5 + LED Strip in the cover
Filtration:
External filter Eheim Proffesionell 3 1200XL
-Filtervolumen 12 l
-Pumpenleistung Per hour ca 1700 l
-Vorfiltervolumem 1.5L

Filled the first two filter baskets with Eheim Pro substrate and the bottom with Ehfi Mech
The filter is permanent eingefrostet on ungefair 2/3 of its capacity.
- A couple fire mouth perch (Thorichthys meeki)


- 5 Eight binding cichlids (Cichlasoma octofasciatum)


- A couple Yellow catfish (L144)