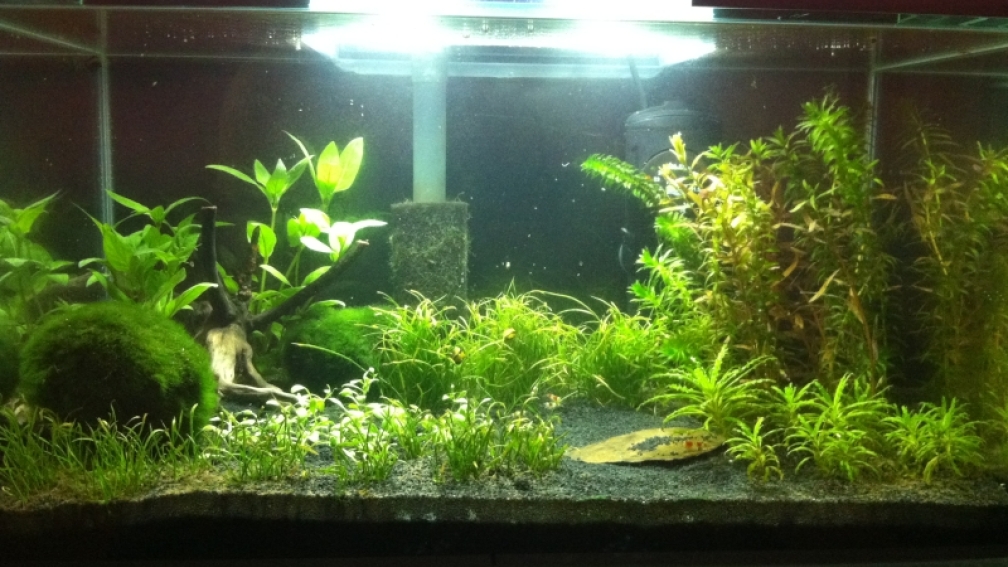 Category:
Tank size:
43x26x22,5 = 25 liters ~ 6 gallons (us)
Specific features:
My First Aquarium: D
Fluval EDGE Nano
Since 15/05/2010

Positive criticism desirable.
Gravel:
Dennerle Deponit Mix
Dennerle Shrimps Gravel black
Plants:
Egeria canadensis (waterweed)

Lilaeopsis macloviana

Pogostemon helferi

Lilaeopsis brasiliensis

Chladophora aegagrophila (Moss Ball)

Rotalla rotundifolia

Staurogyne sp. repens

Glossostigma elatinoides
Special features of the facility:
Lighting:
Replaced by:

2x LED MR11 2.2W
Color temperature: 6700K
Luminous flux: 150 lumens
Angle: 120 °

Lighting on timer from 10.00 clock - 22.00 clock
Light time 12 hrs.
Filtration:
External filter was at AQ here. Activated carbon and Biomax against "Sera siporax mini" replaced.
Other equipment:
Neoheater heater 25W

Nano CO2 plant
3 antlers snails

Bladder snails, flat mail horns and tower snails (smuggled with the plants)

12 Crystal Red
Latest water values ​​from 09.11.2010

Temperature 22 ° C
PH: 6.9
GH: 8
KH: 5
NO2: <0.025 mg / l
NO3: <5 mg / l
PO4: <0.02 mg / l
NH4: <0.05 mg / l
CO2: 20 mg / l
Fe: 0.05
Cu: 0

Measured with JBL droplets test
CU did I get tested in the pet shop.

Water change every 7 days 20-30%
Tap water is blended with osmosis water

Water levels of the exchange water

PH: 7.2
GH: 8
KH: 6-7

Exchange water is treated with Easy Life.
Is fed every 3-4 day alternately

Shikura Ebi Dama
Shikura Ebi Dama Special
Frozen Food (max. 1x a week)
Sera Shrimps
JBL Novo Prawn
Tetra Pro Vegetable
Vegetables (cucumber, zucchini, carrot)
Autumn leaves, Seemandelbaumblätter
Alder cones